Finally, Europe!
After roughly 9 months of terrible planning and anticipation it was finally time for Europe. That intro sounds a lot like an unplanned baby but I swear it's just my OCD for organisation felt like I had done zero preparation for 4.5 weeks in foreign countries. An adventure where we had only really thought of the beginning and for the first time in my life I had not created a hundred page to do list. It had been almost two years since our last grand adventure and boy did I need to get away! These reflections are all about sharing our travel adventures but also how I manage to stay fit and eat healthy food whilst I travel. So without further a ado our first stop; London.
Our travel to Europe seemed particularly easy with small stop overs and the luxury of an AirBus from Melbourne to London, stopping in Abu Dhabi. Lucky for me I suck at sleeping on planes so got all of 3-4 hours sleep before we arrived in London at around 2:30pm. I felt absolutely disgusting having not showered or and barely slept for around 30 hours, but just like most capital cities outside of Australia the public transport is incredibly easy to navigate and we arrived seamlessly to Shoreditch, a hip suburb on London's outskirts. While we waited for our AirBnB host Ryan was starving and we visited a local treasure, Cafe 12, with hearty food laid out on the window sill. The owner was friendly and welcoming for our first stop in London, let alone Europe. We shared pasta and salad in the balcony garden before heading to our apartment. Once in our AirBnB we decided a walk would be great to stretch our legs and explore our new suburb. Characterised by clustered apartments, cobbled streets, beautiful parks and great looking coffee shops we knew we would love our choice of home away from home. Our lengthy walk on the canal allowed us to really get a taste for the quirky suburb, and we even stumbled across a cute little cafe, "Little Georgia's", a name I might have to steal when I open up my own cafe back home. The afternoon sun light helped keep us awake, but we soon crashed at around 8:30pm.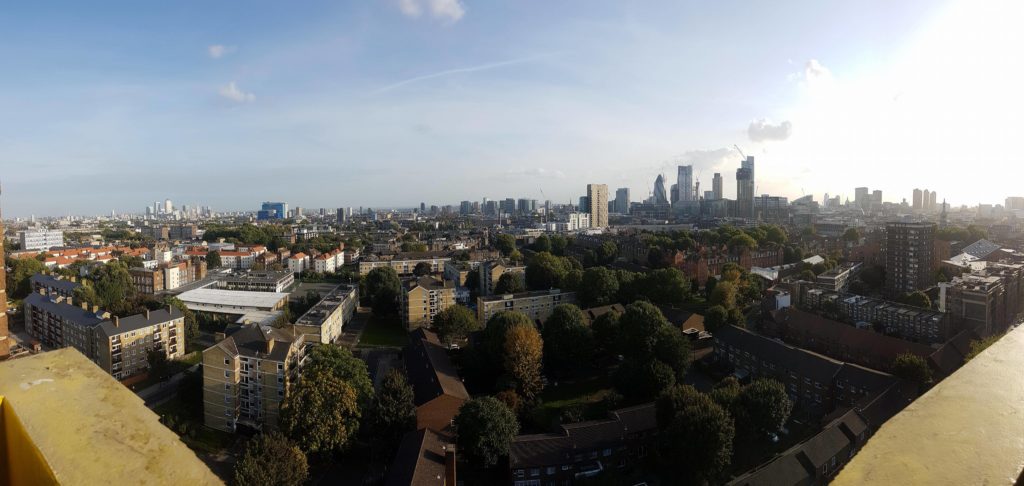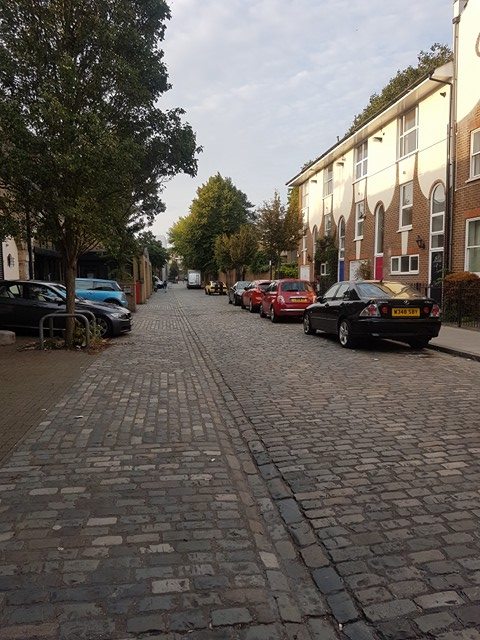 For our first day in London I decided a run to explore the suburb was exactly what was needed. It was a bustling early morning and I stumbled across a beautiful park and even more canals.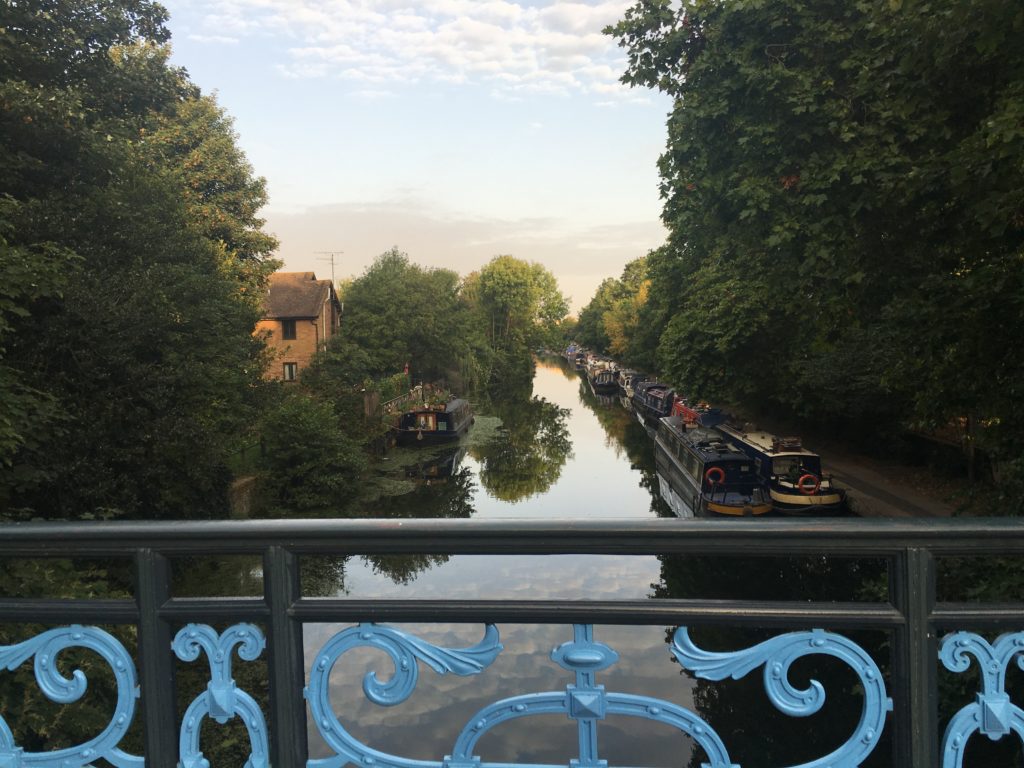 Whilst I ran Ryan walked and found us a breakfast/coffee spot before our train into the city. He hit the jackpot with a quaint Scandinavian bakery, Fabrique, with coffee and rye breakfast rolls, I was in heaven. High five to Ryan.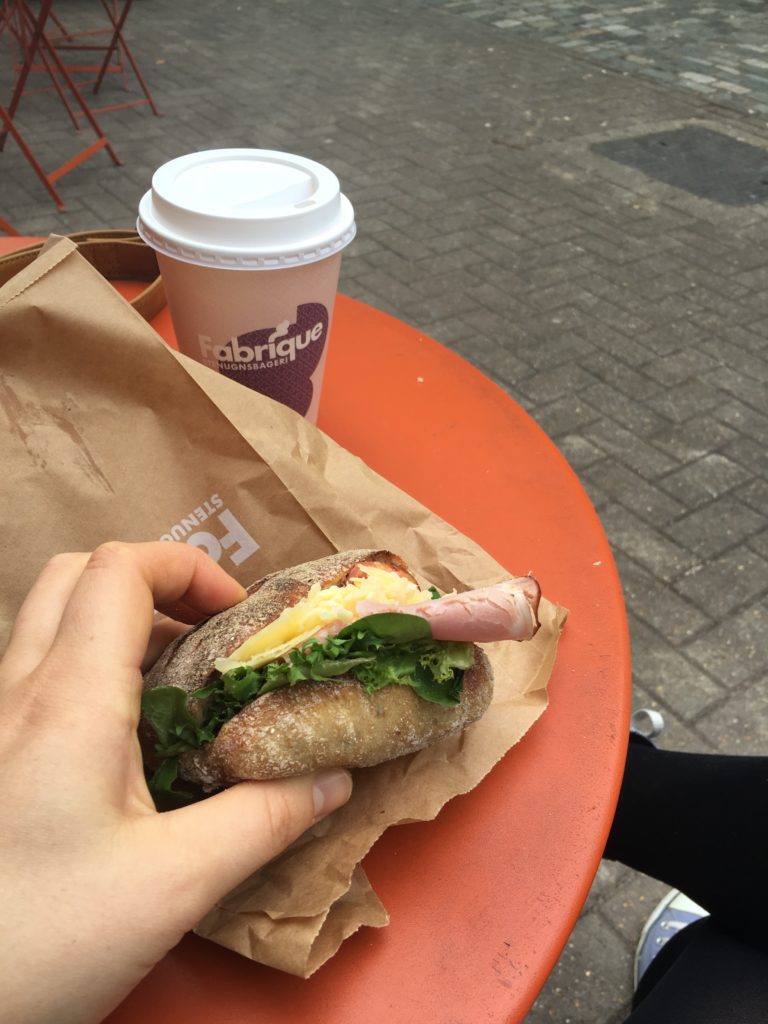 We caught the overground into the city for what was going to be a massive day. With little planning other than to see the sights, and only two full days to explore the city itself we started with the Tower Bridge and simply worked our way from there. We were blessed with sunshine as we explored our way along the Tems through bustling streets and landmarks including the Tower of London, St Paul's Cathedral, Trafalgar Square, Westminster Abbey, Palace of Westminster, Buckingham Palace, Green Park and St James Park.
Funnily enough we found a 'Twinnings' tea bar which we thought was odd as you can buy these quite readily in Australian supermarkets, but their range was extensive to say the least.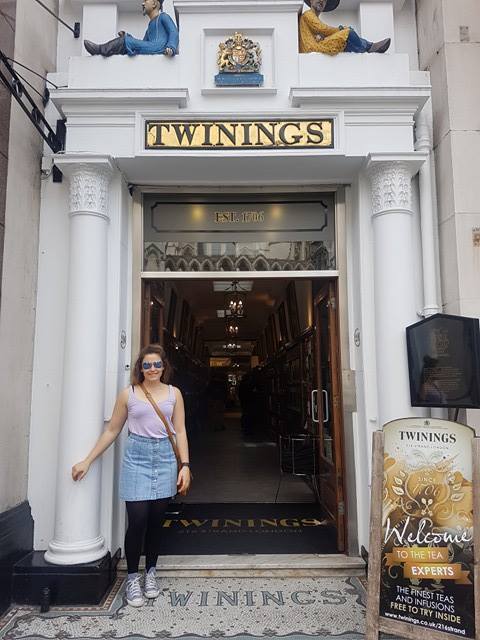 Having already seen several landmarks we were famished for some healthy grub. We stumbled across a small courtyard of food vans where we feasted on Lebanese cuisine.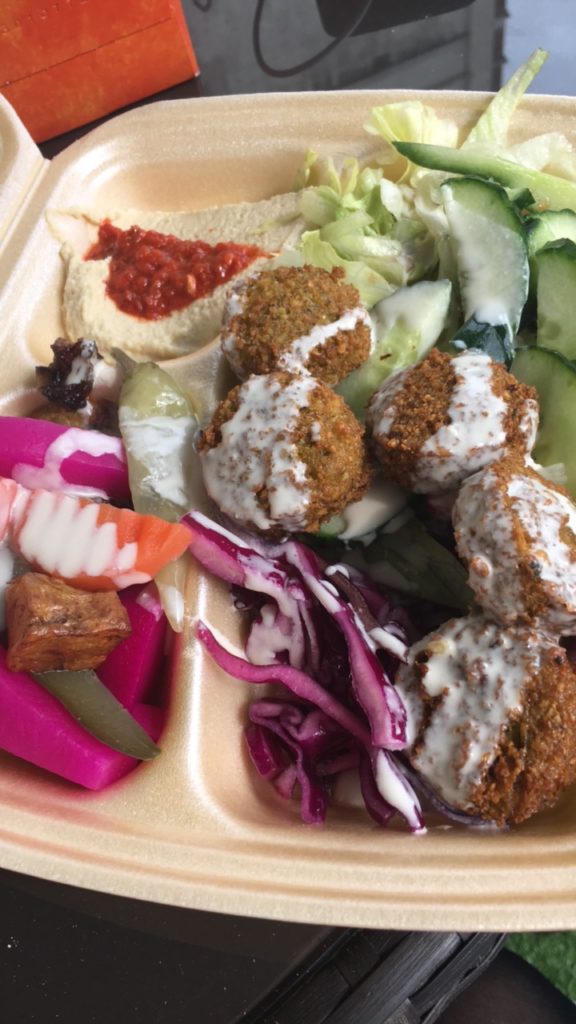 Fuelled for a busy afternoon we hired some bikes and rode through Hyde Park and Kensington gardens. A little annoying that you can only ride in some areas and others you must walk but we covered a fair bit of ground visiting sculptures such as the London bombing and Princess Diana memorials. We also relished in the huge amount of dogs we ran into. After a massive day we headed back to our accommodation before venturing out for dinner of gourmet burgers and sweet potato chips. Exhausted, we hit the hay having clocked up over 45,000 steps on day one.
Day two was a drizzly day, much more London in character. Again I started the day with some exercise, this time a park circuit with body weight exercises, bands and sprints. I was able complete most under the shelter of a tree but still managed to get saturated. We were a little less boisterous on day two having probably bit off more than we could chew on day one. Again, we started the day with coffee and a roll from our trusty bakery before heading to the Imperial War Museum. One of my favourite parts of travelling is the museums, particularly those focusing on wars as you get a different insight to the story you are told by your home country. Following the war museum we headed to the busy Borough Markets for grub. I feasted on a lamb bowl whilst Ryan ate a humongous pulled pork sandwhich with bacon and haloumi.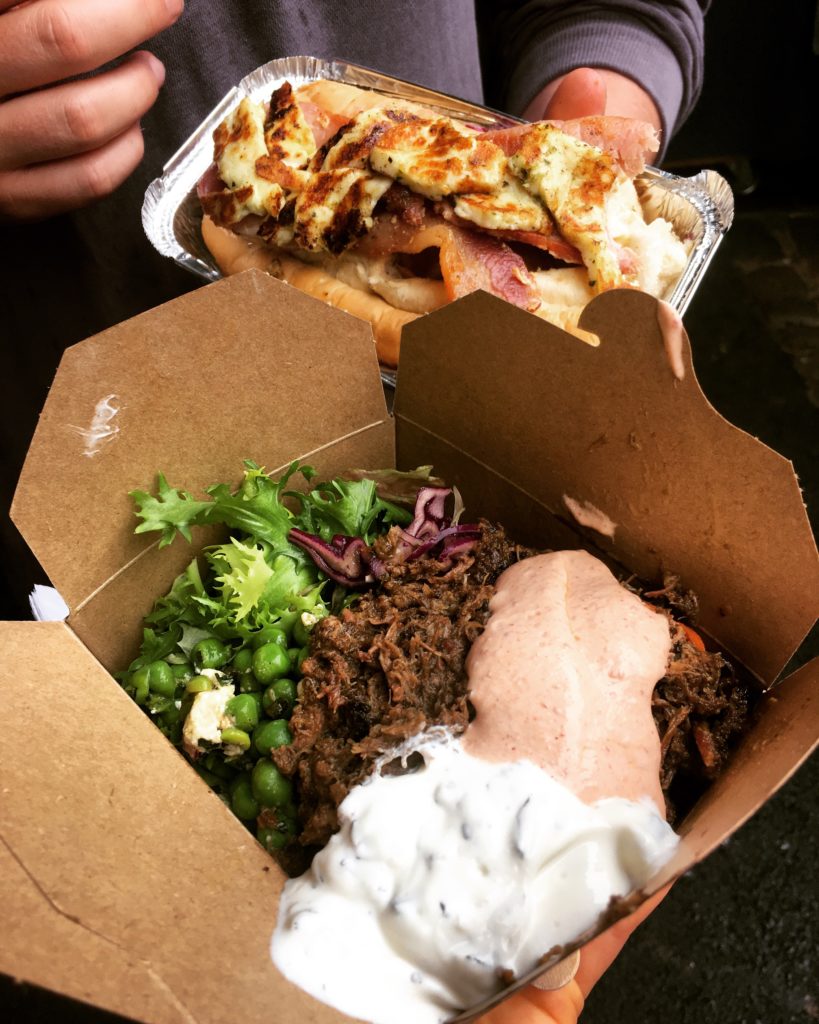 The English are apparently fond of fudge, so we treated ourselves to some homemade delicacies and a veggie juice of course. It's all about balance. Our final stop for the miserably wet day was the London Eye. I'm somewhat afraid of heights so was a little uneasy hopping on a floating clear egg, but it was enjoyable once I got over my fear of breaking away from the carrousel. The view of London was well worth the momentary anxiety.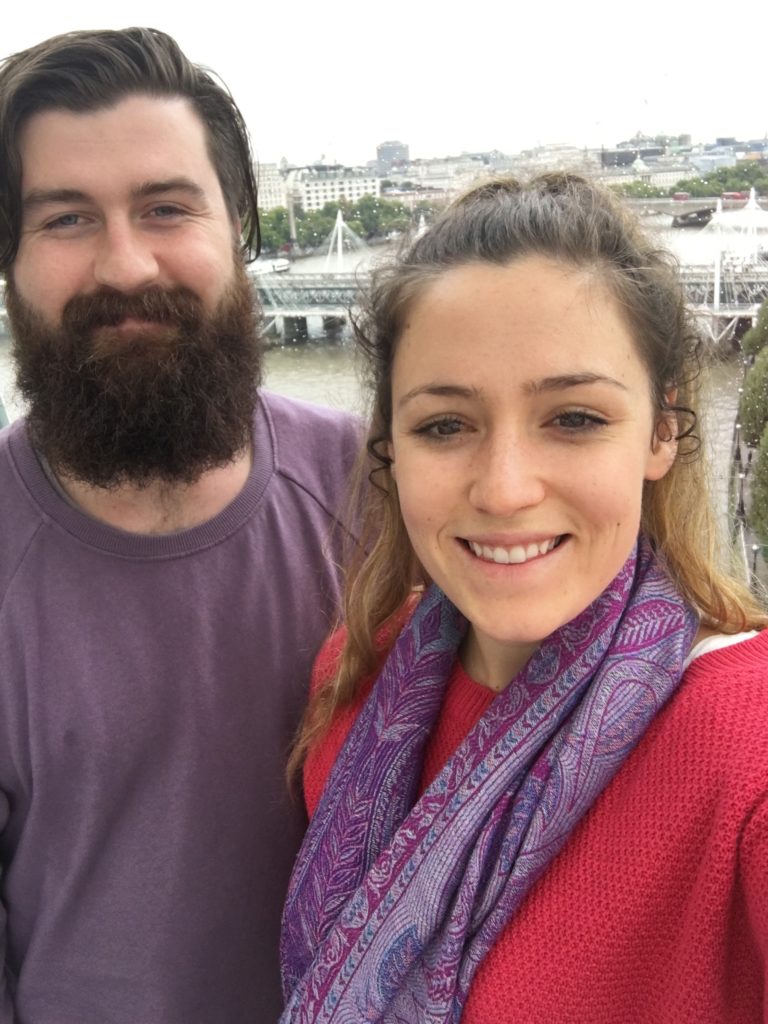 To say we were pretty tired by the afternoon would be an understatement, we trudged back to Shoreditch for a quick rest only to change and head to dinner and a show on the West End. We found a local Korean restaurant where Ryan popped his Bibimbap cherry before heading to Wicked. Having bought the tickets a little late we were left with seats second from the back. It made for an interesting view point especially as I had to continually shuffle back and forth to see past tall lady's with outrageously puffy hair. The show was fantastic and a great ending to our busy second day. Late to bed we went before having to get up early for our last full day in England.
Day three was an early start before jumping on our tour bus to Windsor Castle, Bath and Stonehenge. Our breakfast was on the go egg and bean cups from chain restaurant, Leon, which was surprisingly good. Armed with an average coffee we fuelled up for a long day of driving. Windsor Castle was the first stop on our tour and despite the tourists we quite enjoyed the experience. As we are not die hard Royal Family fans we simply admired the architecture and the odd inter-relationship between a town balancing tourism and general small town activities.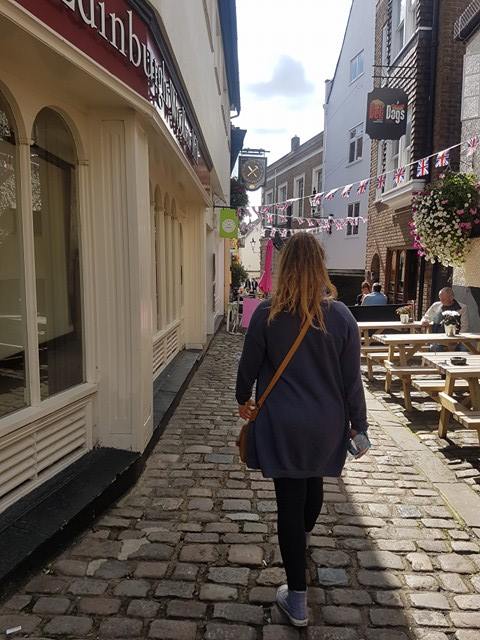 After our time in Windsor our next stop was Bath. Bath has a long history of a variety of settlers from the Romans to the Anglo Saxons and it seems everyone in between. I won't bore you with the history but basically the town is built around naturally occurring hot springs, hence the name Bath. These hot springs were rumoured to hold healing powers having healed a previous heir to the British thrown of Leprosy. The City is UNESCO World Heritage listed for it's breathtaking architecture, stunning scenery and ofcourse these magical hot springs. It really lived up to the hype. We made the most of our short stop, marvelling at the architecture, as well as finding a hidden gem of a cafe where we filled ourselves up with delicious food.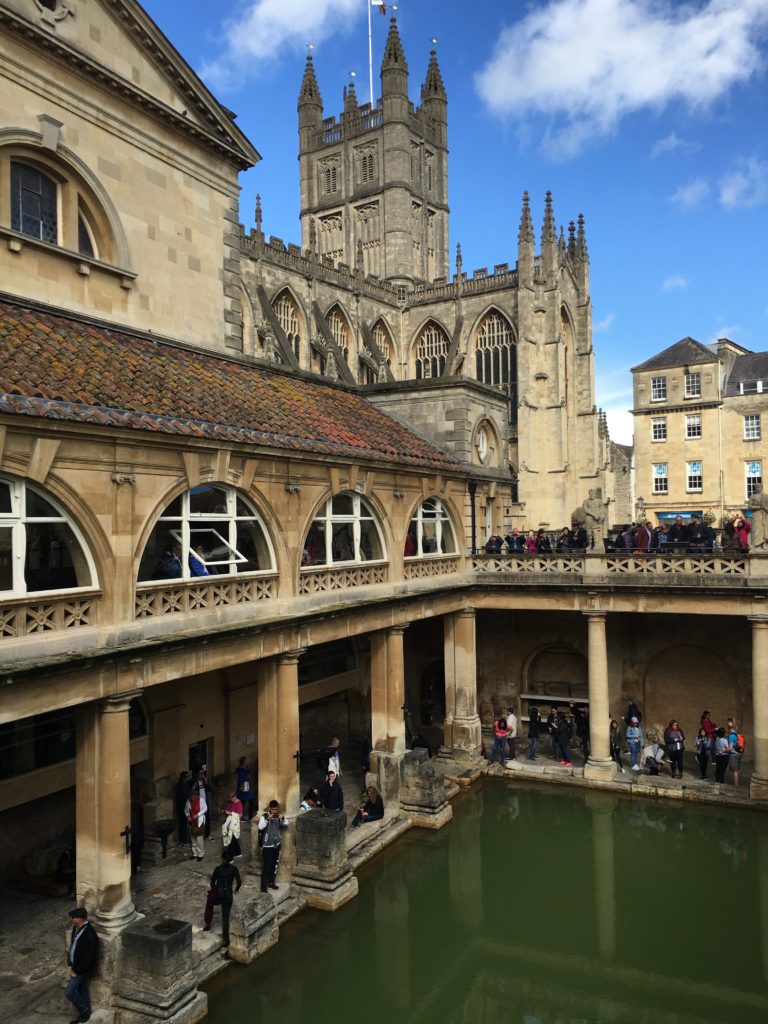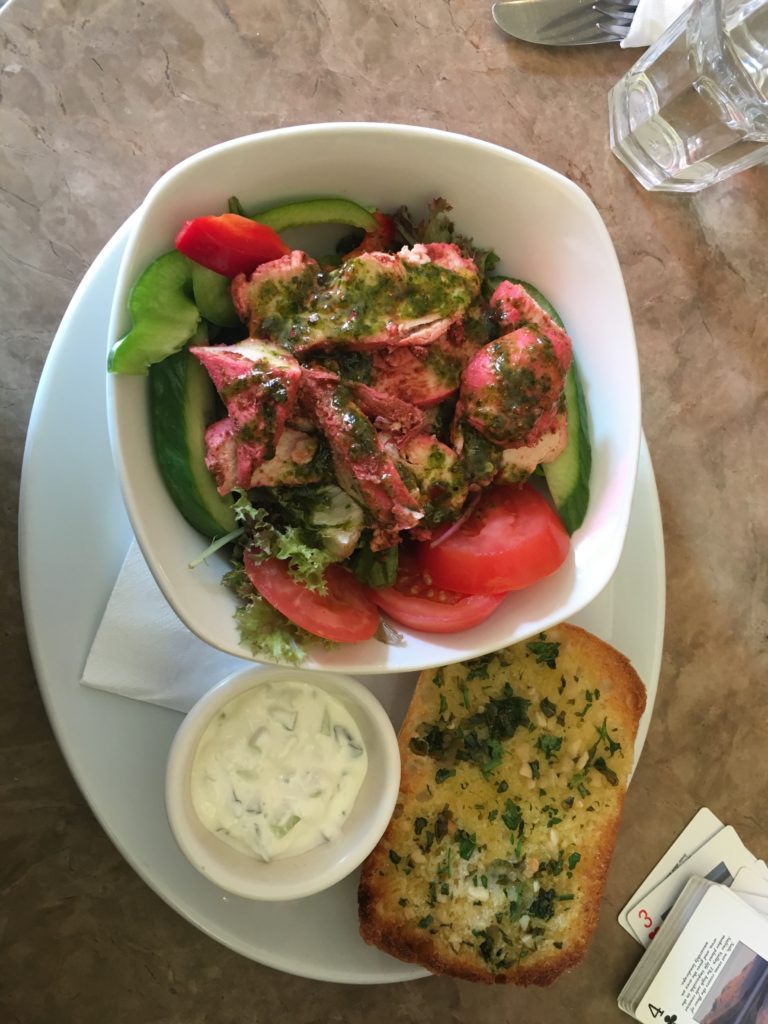 The first half of our long tour day we had been blessed with some English sunshine, but our luck soon began to run out. Our next stop was the famous rock formation Stonehenge, which was around 2-3 hours drive. Once we finally arrived it was raining and freezing cold. For some reason Ryan and I forgot to bring our warm/weather proof coats but we braved the weather regardless. To maintain the integrity of the monument cars park around 1km away and you then catch a shuttle to arrive around 200m from the rocks. As we shuttled to the rocks the rain turned torrential and our piddly travel umbrella seemed a little useless as we tried as much as possible to stay covered through the sideways rain. Stonehenge is another awe inspiring monument considering it was constructed in pre-historic times. Despite the wonder of this monument we lasted all of five minutes, experiencing the true wet, English country side. As you can see from the below photo I wasn't too keen on sharing the umbrella.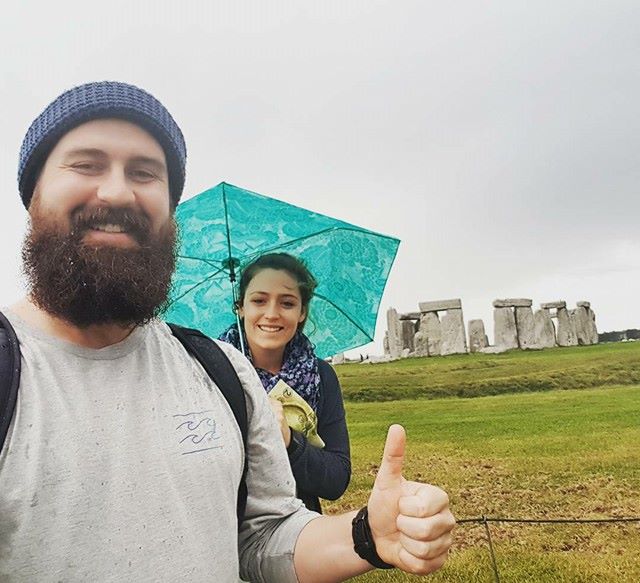 Our tour ended with a long 3 hour drive home to London. We treated ourselves to heavenly sourdough pizza before heading back to our apartment to pack our bags. London/England was a terrific start to our journey, we only wish we had an extra day or two to enjoy the Sunday markets and explore further.
London was an easy place to find healthy options. With a range of chain restaurants, local eateries and a strong interest in fresh, local produce a healthy meal is never far away. As with most places in Europe, day tours are a great way to see the sites outside of the CBD. We packed some healthy snacks from the supermarket such as veggie sticks, fruit and popcorn so we didn't have to rely on the expensive or unhealthy options at the tourist sites. London is easy and simple to navigate by public transport and by foot, so use this opportunity to get your body moving. I also love to run in new locations as it allows you to explore all the hidden nooks and crannies you might not have seen. If you have a bad sense of direction load your maps on your phone with wifi first, pinning your starting point, so you can back track if need.
The next stop on our adventure was Iceland, an odd choice for a holiday but one Ryan and I were super keen to see. Keep your eyes peeled for the next instalment as I share with you the breathtaking photos and of course my food from this up and coming tourist hot spot.
Peace, Love and Food xx
Georgia