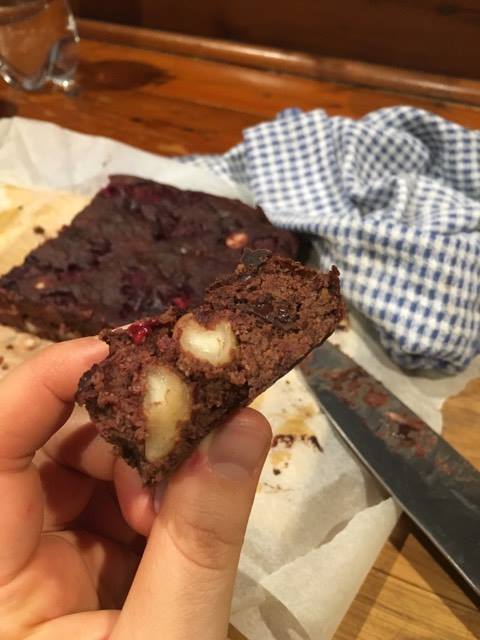 Kidney bean, beetroot and macadamia brownies
2017-05-20 01:12:16
Serves 16
I love creating delicious, healthy versions of everyones favourite treats. I also love vegetables, hence why I created a brownie packed full of high fibre options. The beetroot and cacao are high in antioxidants, whilst the kidney beans are a good source of protein, folate and iron. I kept the sugar content low in this recipe by using dates, raspberries and dark chocolate for bursts of flavour. Lastly, the chunks of macadamia add a hit of healthy fats and crunch.
Ingredients
1 can kidney beans, rinsed and drained
2 small roasted beetroots, skin removed, roughly chopped
2 eggs
1 tsp vanilla
2 tbsp rice malt syrup
4 dates, pitted
1/3 cup almond meal
1/2 cup cacao
100g 85% dark chocolate, roughly chopped to resemble chocolate chips
1-2 cups frozen raspberries
1 cup macadamias, roughly chopped
Instructions
Line a brownie tray with grease poof paper and pre heat oven to 180 degrees.
Blend all ingredients except macadamias, chocolate and raspberries.
Mix through broken up chocolate and macadamias into batter.
Pour batter into prepared tray and top with raspberries pressing them in slightly.
Bake in pre-heated oven for 25-30minutes until skewer comes out with crumbs attached.
Eclipse Fuel http://eclipsefuel.com/