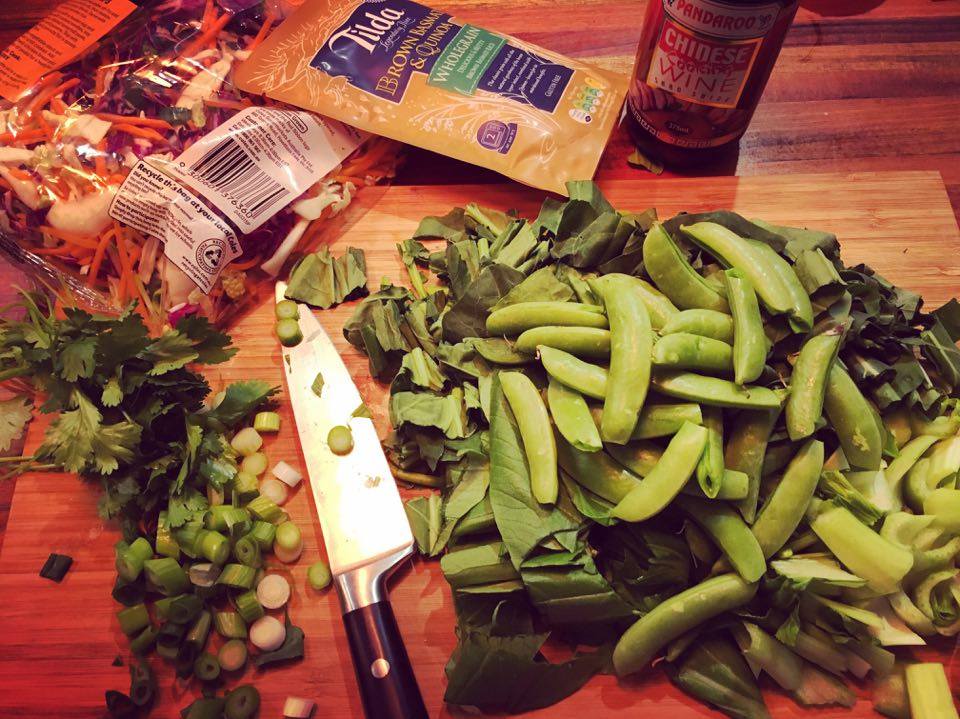 Spicy pork and rainbow vegetable fried rice
2016-04-05 20:19:06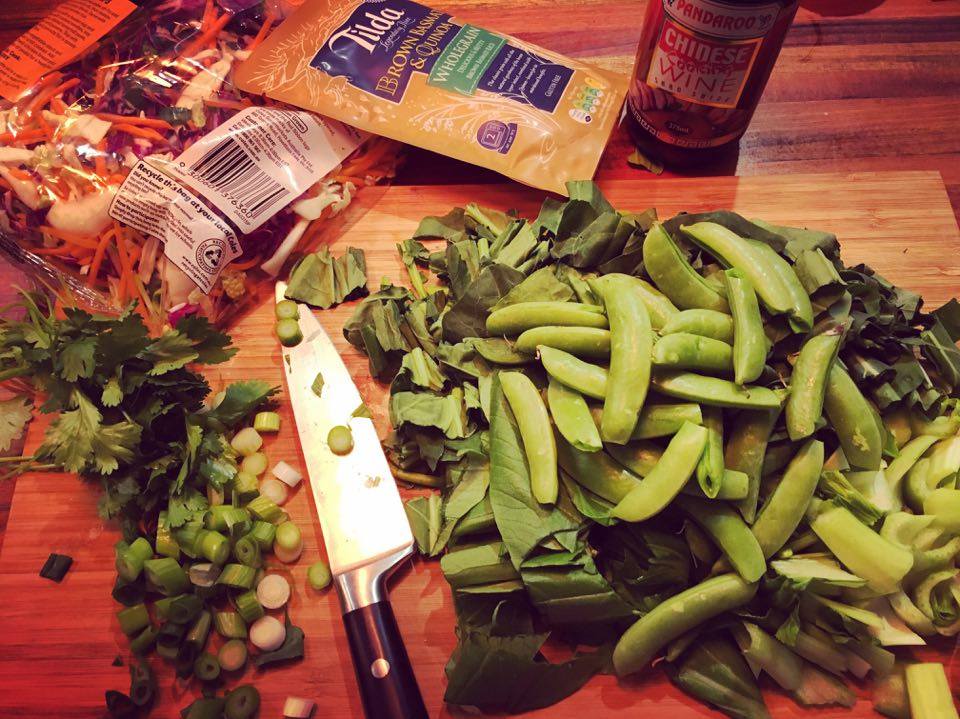 Serves 5
I love a mid week meal that is tasty but easy and quick to throw together. The secret to midweek meals are having pantry essentials and freezer staples to use when fresh ingredients begin to dwindle. My favourite pantry items include rice/pasta/quinoa/sweet potato, a variety of spices (cinnamon, turmeric, cumin, paprika, ground coriander, chinese five spice, chilli flakes, sea salt and pepper), canned tomatoes, canned legumes, asian soy bases (soy, hoisin, oyster), olive oil, and stock. Also in my freezer there are always frozen veggies, herbs and portioned meats. Spices and herbs are the secret to transforming any dish from boring to restaurant ready. Use these ingredients in combination with fresh produce to create delicious, wholesome meals everytime. As we come into winter it is essential we get adequate nutrients to help our body fight off cold and flu. We do this by eating a variety of nutrients from all food groups, but in particular fruit and vegetables. These food groups have the most abundant antioxidant and anti-inflammatory nutrients to promote health and immune function. I aim to eat 3-4 different coloured vegetables at lunch and dinner time ensure I get all the nutrients I need. This dish is full of colourful vegetables and will easily provide you with an abundance of nutrients to aid in fighting off cold and flu.
Ingredients
1 tsp
500g premium pork mince
2 tbsp chinese five spice
1 small red chilli, seeds removed, finely diced
1 bunch chinese broccoli, diced
1 bunch bok choy, diced
200g sugar snap peas, trimmed
250g microwavable brown rice and quinoa mix
1 packet stir fry mix (red cabbage, carrot, white cabbage, red onion finely sliced)
2 cloves garlic, crushed
1 cm knob of gigner, finely diced
2 tbsp Chiense cooking wine
2 tbsp sweet soy sauce
2 tbsp oyster sauce
half bunch coriander, torn
Instructions
Heat a large fry pan or wok over high heat. Drizzle over peanut oil and heat. Add pork and cook through. Add Chinese five spice and chilli and cook for a further 2 minutes until fragrant.
Meanwhile cook brown rice per instructions.
Remove pork from pan and add another tsp of peanut oil. Heat and then add fresh vegetables, ginger and garlic. Quickly saute moving the vegetables continuously for 5 minutes until partly cooked through
Add rice, sauce and pork to pan. Stir through to heat pork and combine sauces. Taste and adjust flavours as necessary ie more soy if not salty, more chilli if not spicy enough.
Stir through coriander and serve.
Eclipse Fuel http://eclipsefuel.com/