Following on from my previous post we had 5 more full days in New York to explore. We purchased a CityPass that gave us access to 6 key tourist destinations for a discounted price, so we wanted to keep checking an attraction off each a day.
DAY 2
Our plan for our second day involved seeing the Statue of Liberty, the 9/11 memorial and meeting up with one of my best friends Ash in her NY apartment before dinner. We were so buggered from our first day in NYC that we crashed out at 8pm, or so we thought. Both Ryan and I woke up at 12am, and stayed up until around 3-4am. This is what we now know as jetlag, which we thought we were lucky enough to avoid, apparently not. We had our alarm set for 7am as the Statue of Liberty is an early start to avoid lines. Ryan decided to turn the alarm off as I had not stirred when it sounded. I woke to the sounds of our host vacuuming and thought how odd it was for her to be doing so before 7am. I look to my phone and it is 1:30pm!!!! I was so annoyed at Ryan at this point from sheer disappointment that we had literally missed half a day, especially when the sun goes down at 4pm! We jumped out of bed, and started a new plan of attack as we headed into the city.
Our re-scheduled plan saw us visiting the 9/11 memorial first up. As soon as you step into the area you feel the difference from the hustle and bustle of the city around you to a gentle, solemn vibe. The pools are a quiet place to reflect on the tragedy of 9/11, but the museum gives you a depth of understanding of the magnitude of the event. I have never seen any tourist attraction so quiet, and I spent the entire time cursing under my breath with goose bumps as I came to terms with the tragedy that unfolded. Seeing New York and it's beauty, culture and uniqueness, you can only imagine the terror that unfolded that day. Obviously, tragedies occur every day in other world countries that don't get a memorial or monument, but this was an event that changed the course of history, and until you are here it's a hard thought to comprehend as to why it is so important.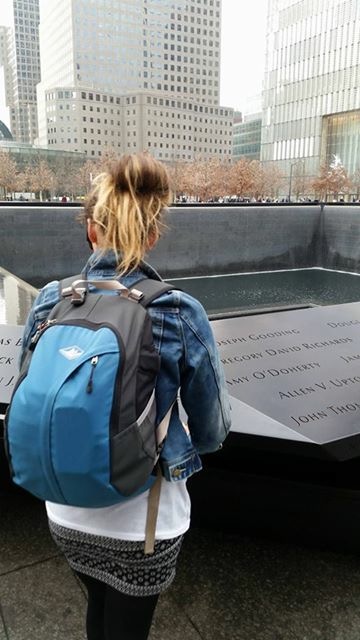 After completing the memorial museum we walked to Wall St to explore. For how famous the street is, it's pretty small on the scale of Manhattan. Just around the corner we met up with Ash and she took us to this delicious restaurant; Chalk Kitchen. The restaurant focuses on a paddock to plate style feed, where whole foods are sourced locally and all produce is fresh. In all our rushing around to get the most from our delayed start we missed breakfast and lunch, meaning by the time dinner came around we hadn't eaten for over 24 hrs! Being starving it was good to see amazing options on the menu, and like most trendier places in NYC it cost more than the average dinner, but the quality of food was top notch. We shared brussel sprouts with bacon and a cauliflower steak with tahini. I then had a Thai beef salad, which was fantastic and super filling, whilst Ryan had the pork special served on polenta with a truffle juz, which I tried and it was mind blowing! It was again cozy, but dark in the restaurant so no photos were good enough to showcase the beauty of the dishes. Afterwards we went to a famous macaron shop called Ladurée. I had a caramel with salted butter, which was fabulous. Following on from dinner Ryan and I ventured to Time Square and the Empire State building. Both lived up to expectation, with the Empire State providing fantastic views of the NYC skyline. Despite our late start we ended up having an action packed day and didn't go to bed until 1am, making up for lost time. An important lesson when travelling, you have to be flexible with your plans, as they will more often than not change.
DAY 3
An early rise and running session was necessary, we ventured to a bigger park, which ended up being a lot further away than anticipated. We alternated a 1 minute fast run with skipping and 20 second break for 15 minutes before running home to get on our way to the Statue of Liberty. Miss Liberty was up there with my favourite attraction and goes above and beyond the hype. As we were tight for time we didn't have time for our usual bagel, instead we bought a late breakfast from the café. It was great to see plenty of healthy options from whole-wheat sandwiches, and salads to simple meat and three veg. I opted for the roast vegetable Panini.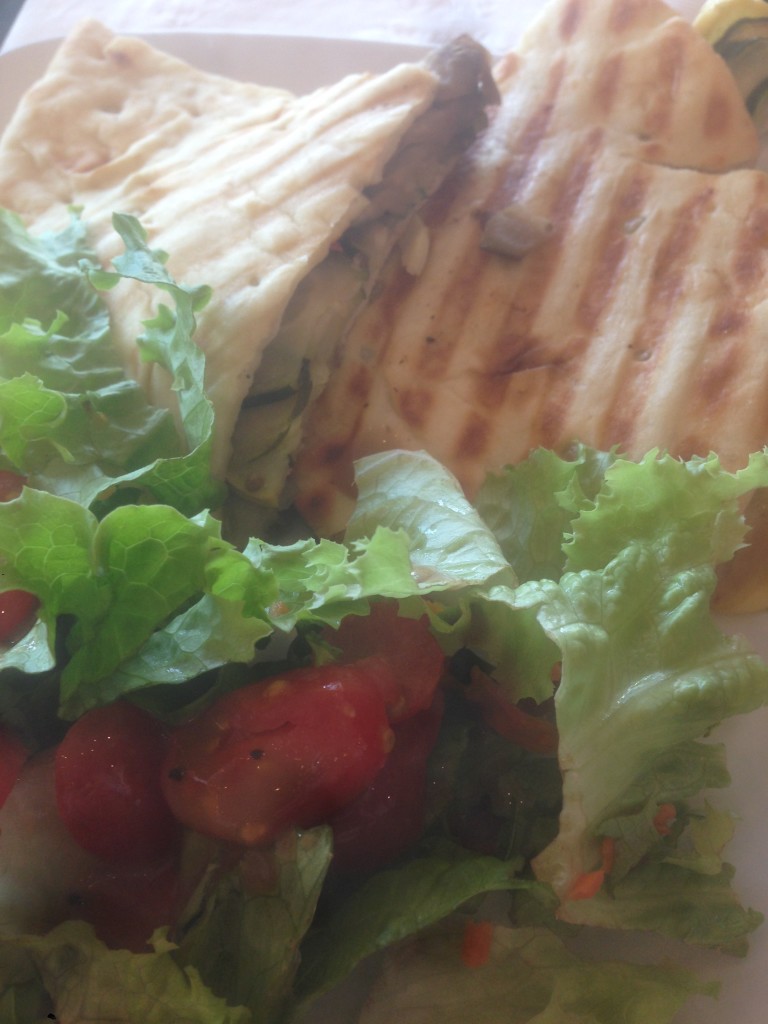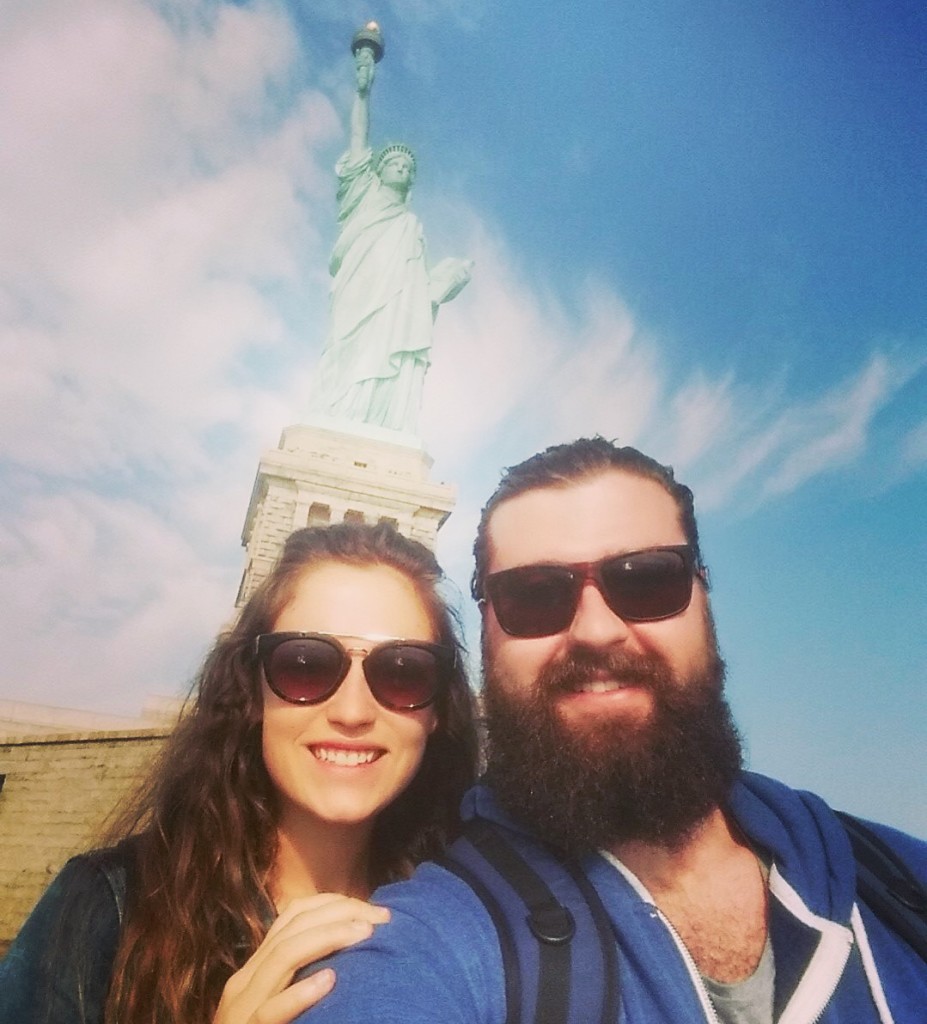 After the statue we ventured on foot to Chinatown. We stopped for a light late lunch at Joe's Ginger, a branch of the famous Joe's Shanghai that had a heavy line out front. We shared a delicious plate of stir fried broccoli and dumplings. From here we met up with Ash again before shopping in the famous Century 21.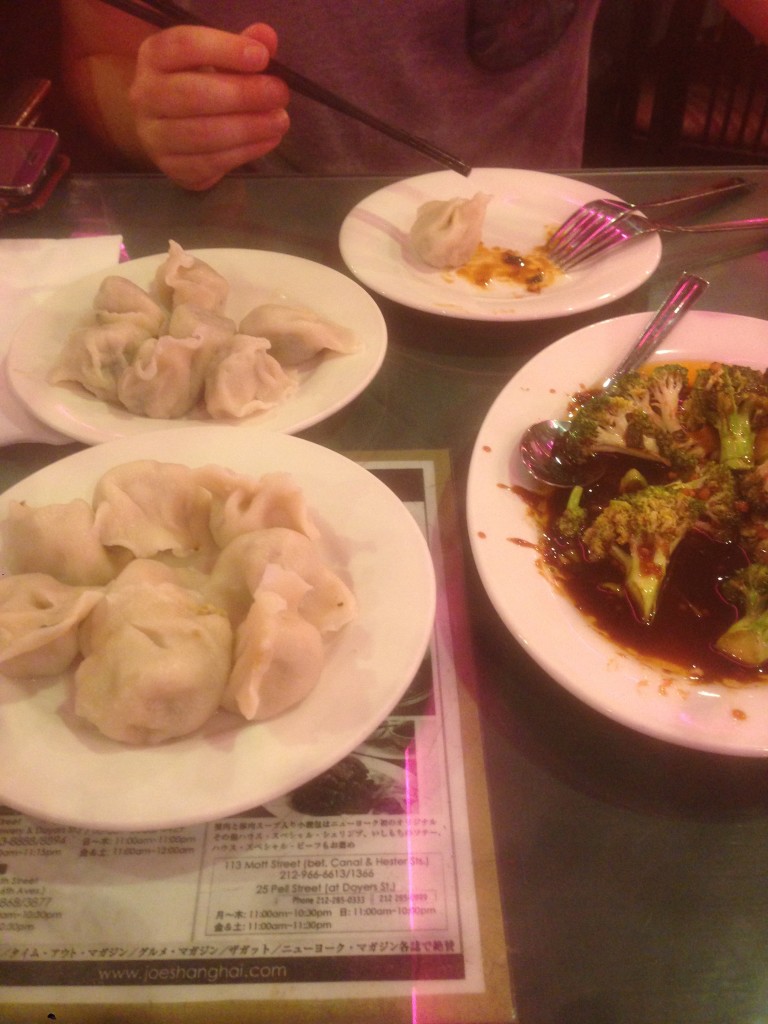 Ryan wanted to stay up to watch the McGreggor v Aldo fight, so Ash recommended us go to the popular Briskettown in Brooklyn for dinner before heading to the sports bar. Briskettown served typical Southern food, Ryan and I shared brisket, ribs and pulled pork served with collarded greens and coleslaw. when I say share I mean competitively inhaled as to avoid missing out on any goodness. As we ate so quickly we had time to burn before the fight, we strolled along the hipstery of hipster streets (Bedford Ave) and ended up finding another delectable ice cream sandwich to share, this time from a cookie specialist shop; Schmackery's. We opted to go to the Croxley Sports Club for the fight, which was packed! At this point it was 10pm and we were so exhausted we left after the 3rd fight, unfortunately missing McGregor's record time KO. Another fulfilling day in NYC, and finally a good nights rest.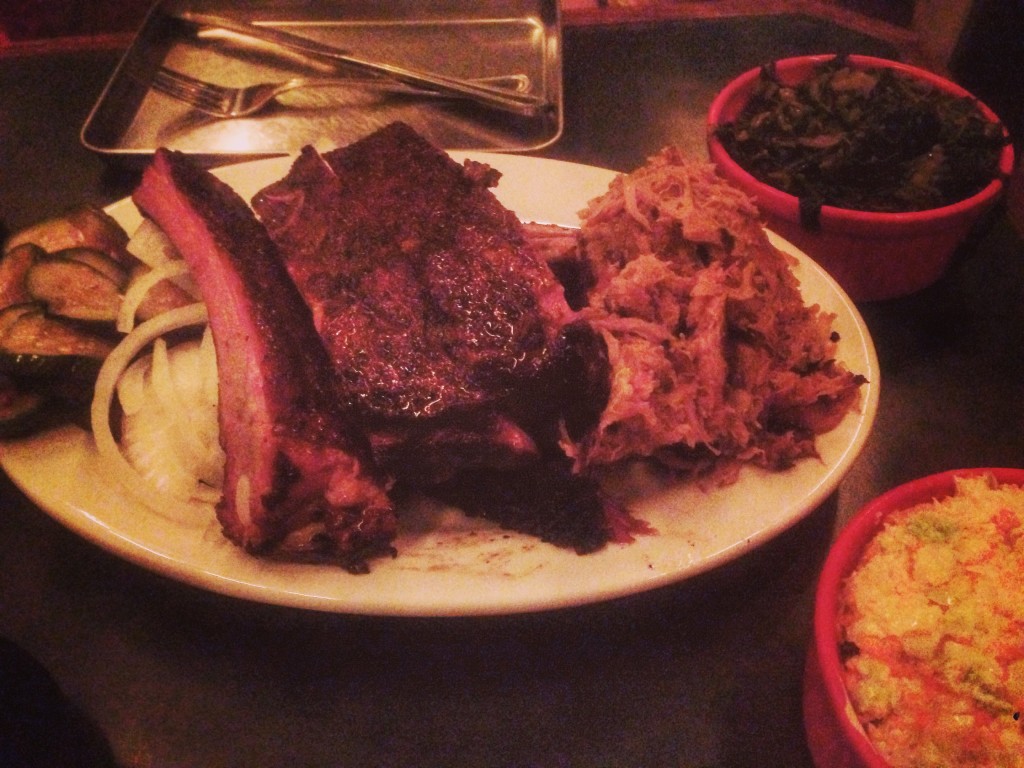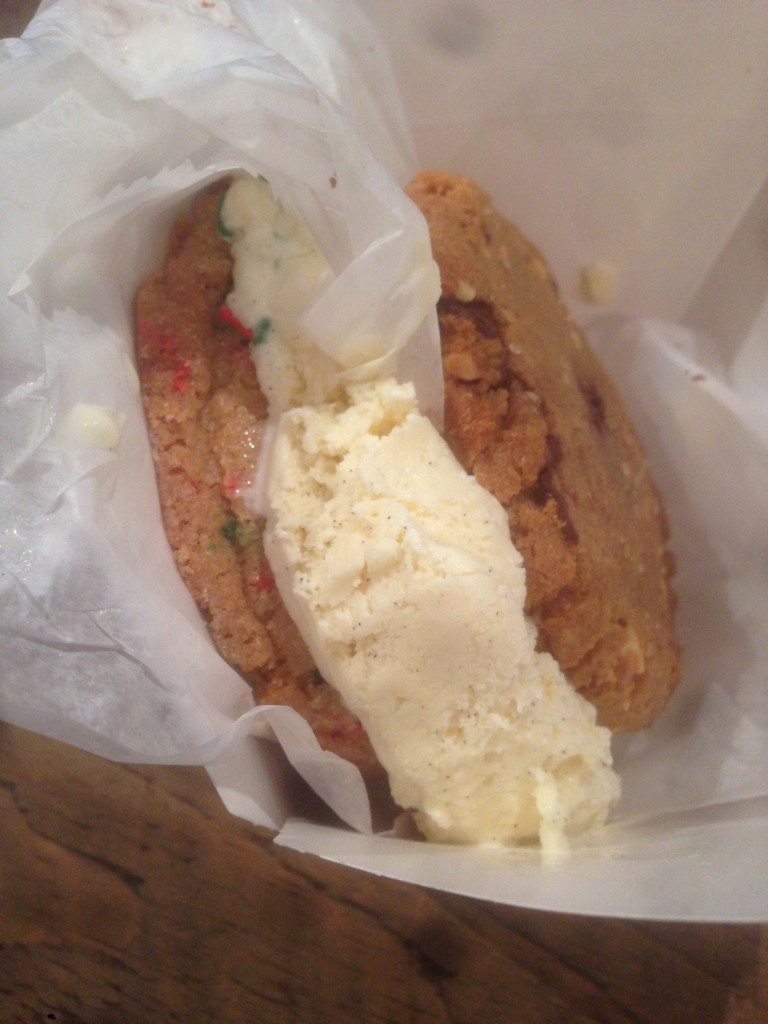 DAY 4
We opted for a sleep in today before hitting up a resistance workout using bands and the park equipment down the road. Filled up with bagels from our favourite Current Café we thought why not head to Penn Station to sort out our Amtrak tickets. This is where our day got infinitely worse. We found out that certain trains are already booked out and others would take more time than anticipated to get there. One particular disappointment was spending Christmas day on the train rather than at Disney World. With the disappointment and stress I may or may not have cried to the ticket man at Amtrak, the fellow was lovely, giving us plenty of time and advice to help get our trip back on track. Another travelling lesson, plan your transport first before you plan your accommodation (maybe use a travel agent, even if it costs more). Despite a minor meltdown I quickly transitioned to critical thinking mode to try and problem solve. We headed back home to sort our life out. Long story short and after many changes in plan we missed out on our short trips to South Carolina, North Carolina and San Antonia, but gained an extra couple of nights in New Orleans and Orlando. We also hilariously bought two nights in a hotel in New Orleans as we thought it was cheaper than AirBnB. AirBnB had updated their system to show totals at each destination, when they previously showed just each night, which to us looked like each place was really expensive. Oh well, I am sure the hotel room will be a pleasant change. Our detour home meant a delicious snack of berry's and yoghurt and a much-needed vitamin and mineral boost.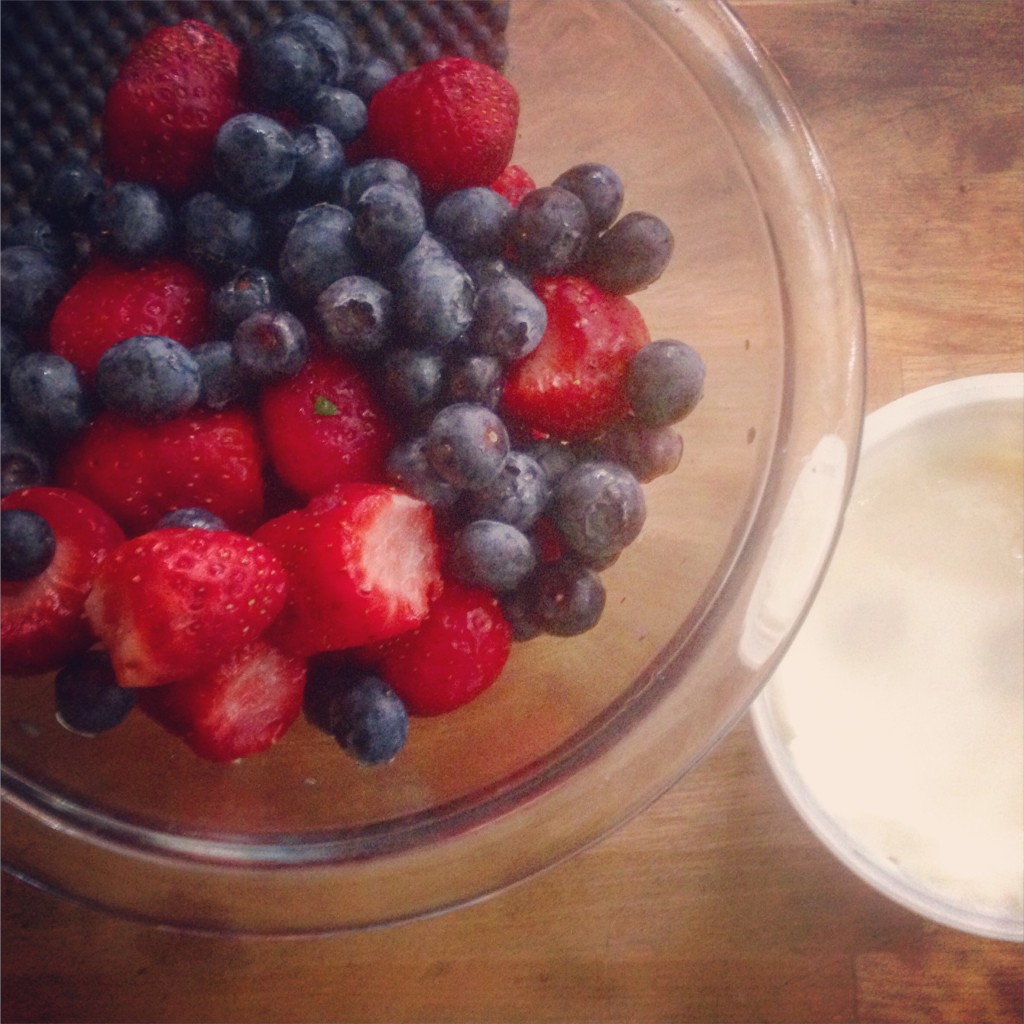 After the disaster, we thought we would head back to the city to see the Rockefellar building; turns out its closed on Sundays. Next plan was to find dinner. I had the genius idea of trying Shake Shack. We shared a SmokeShack burger and cheese fries. To be honest, it was a bit of a let down. I enjoy the taste and flavor of fresh, quality food and this didn't tick any of those boxes. I don't shy away from 'unhealthy' foods as they usually taste bloody awesome, but this just tasted like every other sloppy burger I have ever tried. We explored the city some more, including seeing a cute little winter market. But the true highlight of our shitty day was finding Eataly, and as soon as we did I was kicking myself for eating bloody shake shack instead of the abundance of incredible food that was in front of me. Luckily we had a couple more days to fit in a true Eataly experience, so we settled for a Nutella and strawberry crepe, yum!
DAY 5
Wanting to try a famous bagel shop, Ryan and I headed back to the hipstery Bedford Ave, but first we found a running track, lanes and all. We saw a familiar yellow Sherrin just hanging out on the side of the track whilst it's owner smashed out some fast 200 sprints. His build also seemed familiar, Ryan and I were certain he was an AFL player, but thought maybe VFL as he surely couldn't get the time off. After our last effort of our running session we approached the guy for a kick, turned out to be All-Australian and Richmond FC best and fairest player Alex Rance. He was an absolute champion, as was his wife who was there to help train with him. We chatted about our trips; they were on the last month leg of a 3-month trip and had several great recommendations. It was great being able to chat with an Aussie, having similar mannerisms makes it much easier to communicate. Following the run in with the superstar, we tried Bagelsmith Bagels; the choices of bagels and cream cheese were endless. Despite the variety we felt our local Currant Café did them better, but I think we are just bias. We took our bagels and headed to the Brooklyn bridge. Another great monument and worth the effort to get to.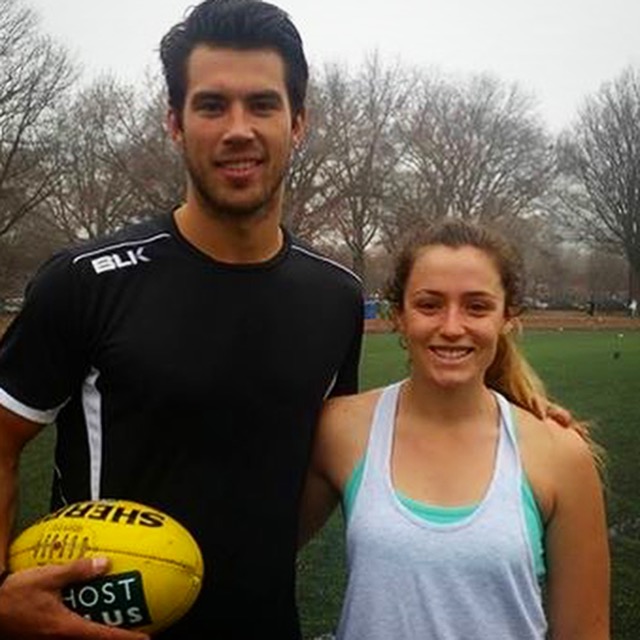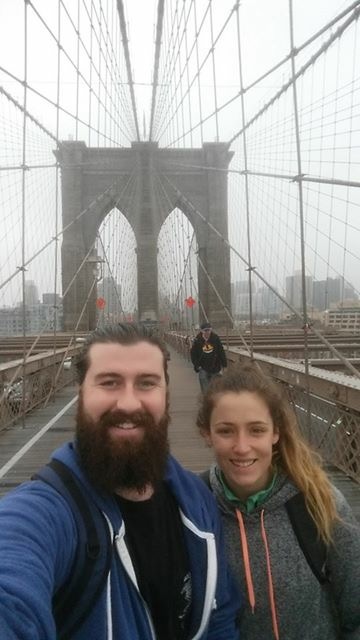 After another big day we finished with the famous Roberta's pizza which happened to be just around the corner. Ryan and I shared a broccoli, kale and kahlrabi salad and the 'bee sting' pizza. All were mouth watering and lived up to the hype.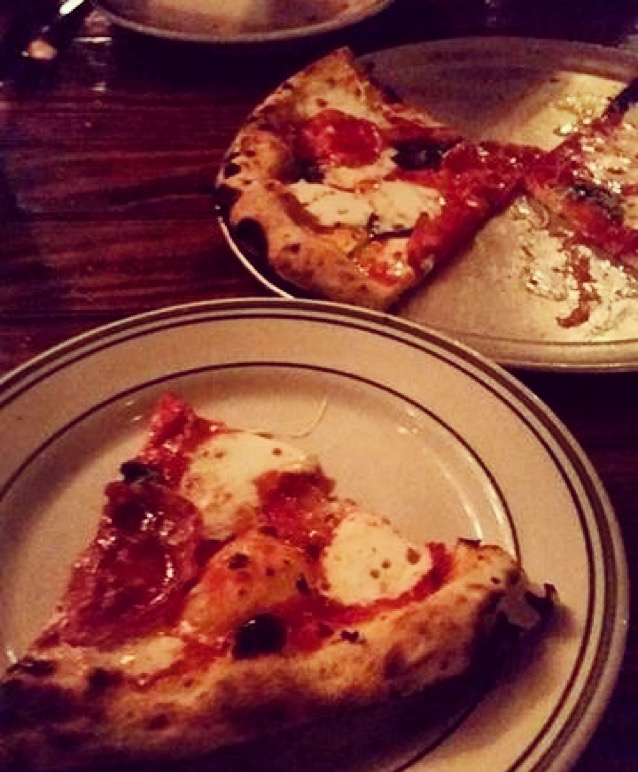 DAY 6
I woke up feeling super crappy for our final day in New York having had very little sleep the night before. Ryan suggested we just exercise later if we felt like it, I reluctantly agreed. Sometimes rest is your best friend, but other times the endorphins from exercise can invigorate you for the day. We ventured to the Rockefeller Centre, which had an ice-skating rink and countless higher end shops. It was a lovely visual experience. The 'Top of the Rock' experience involved seeing a 360 degree view of the city, and despite the icy winds it was beautiful.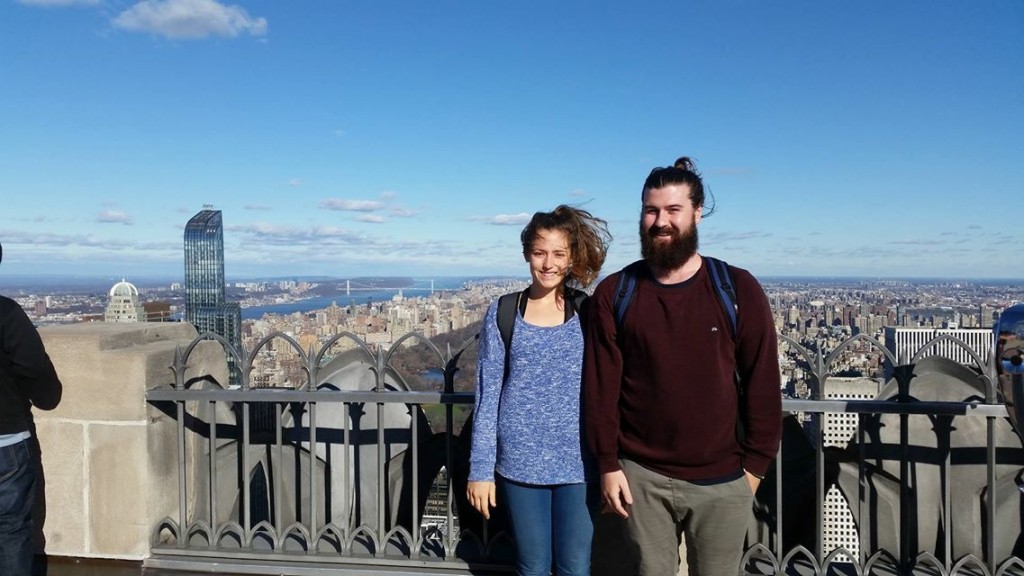 I was craving vegetables and the vitamin boost, and what better way to achieve that on a cold winters day than a great big bowl of soup. There are several soup shops and chains in NYC, but one in particular caught our eye; Hale and Hearty. They had an incredible range of salads, sandwhiches and soup options. Ryan and I shared a large Ten Vegetable and a Medium Chicken Alfredo soup, served with sour dough it was the perfect pick me up.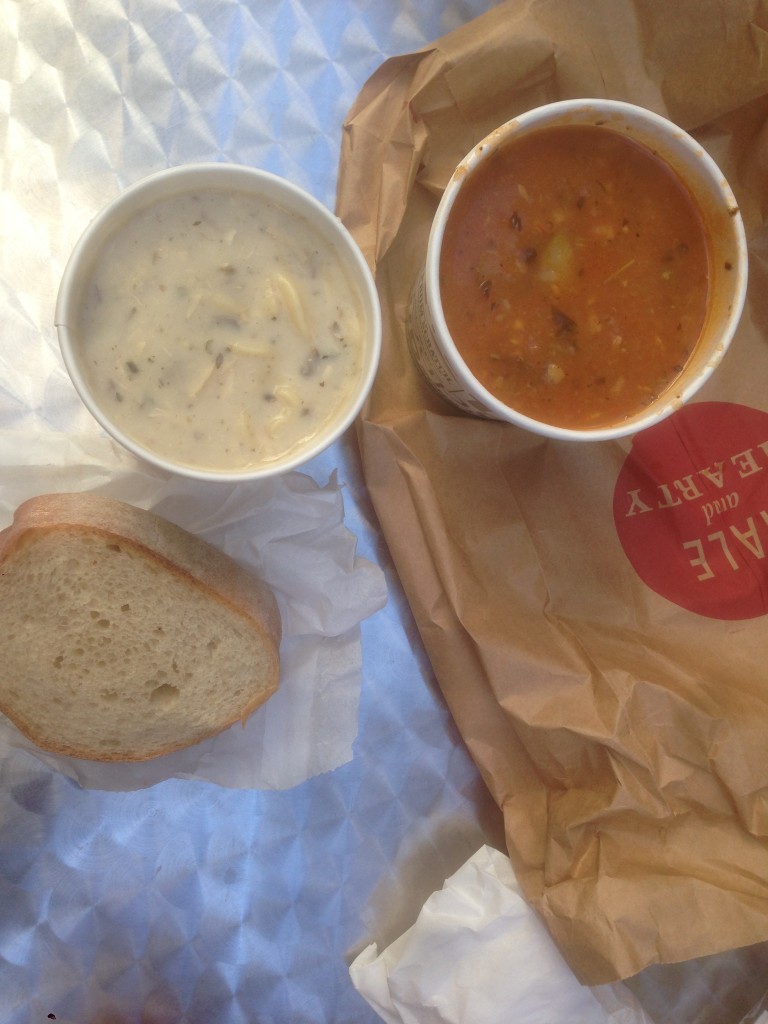 Following our city exploration I felt a kick of the footy would lift my spirits. We headed back to our favourite track and Ryan put me through my paces. After the session I was a new person, and ready for the rest of our day. It goes to show the difference exercise can make to your mood especially when exercise is a habit ingrained into your routine. I feel that even though you are exploring the world it is also important to priorities some of your usual routines like exercise or meditation etc if they add value to your life. These activities enhance your normal, everyday lives so why can't they benefit your time travelling? If it helps you feel alive, healthy or happy then make an effort to include it.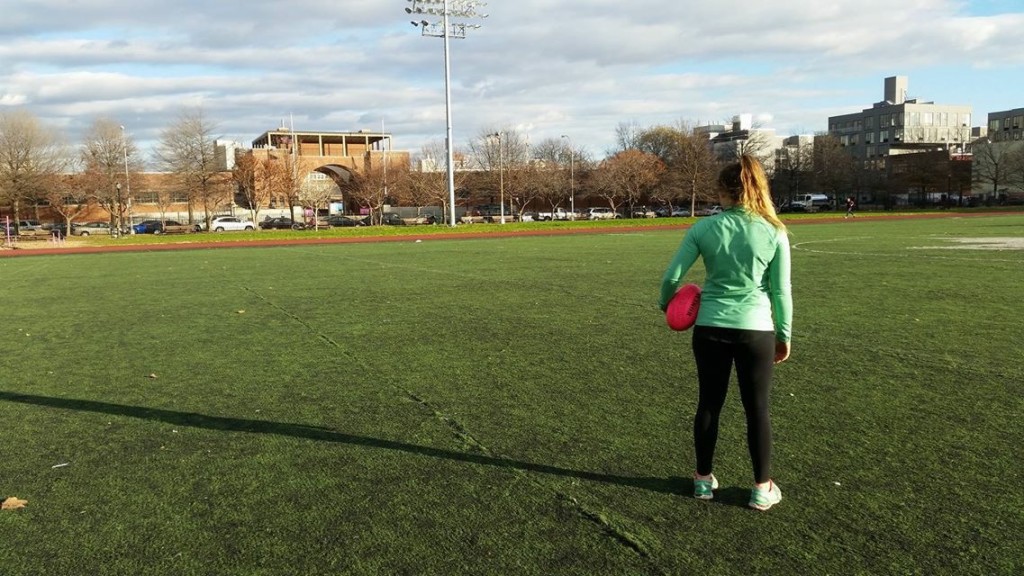 To finish off our final day we packed our bags and headed to Eataly. We decided to sit at in the main restaurant that is vegetarian based (much to Ryan's disappointment). We shared a mozerealla salad, lentil and pomegranate salad and a gnocchi, mushroom ragu. We ate slowly, savoring the experience and the beautiful produce. I can't recommend Eataly enough, as a lover of food in general and particularly good quality food this place just blew my mind (and my taste buds). The emphasis on fresh, locally sourced produce is evident throughout Eataly. Many products such as cured meats, cheeses and fresh fruit and vegetables are sourced as close as New Jersey (across the river). To finish the night we explored the winter markets near our train stop where we shared a hot cocoa, definitely not as good as our hot chocolates at home and much sweeter, but definitely fixed our sweet tooth.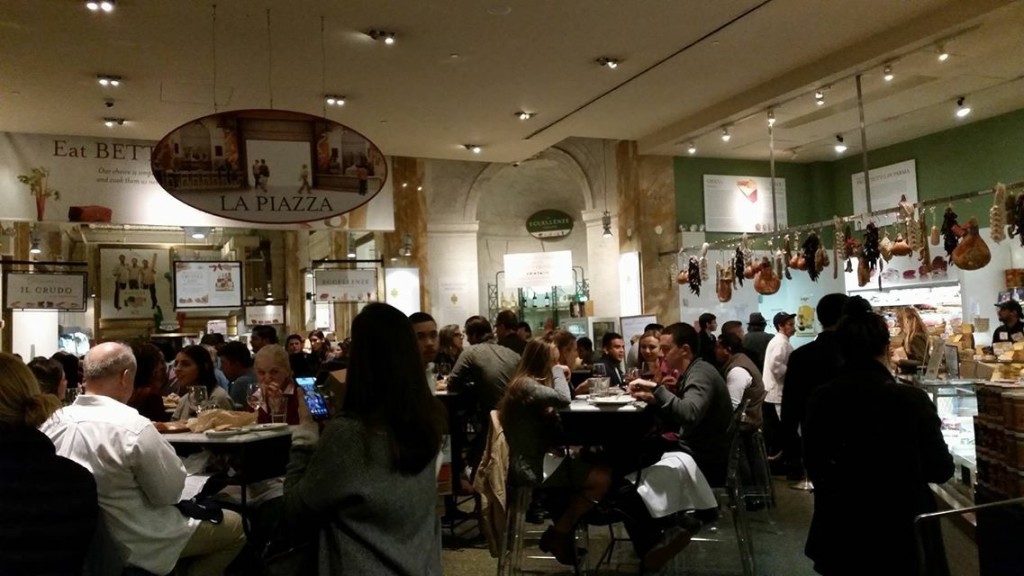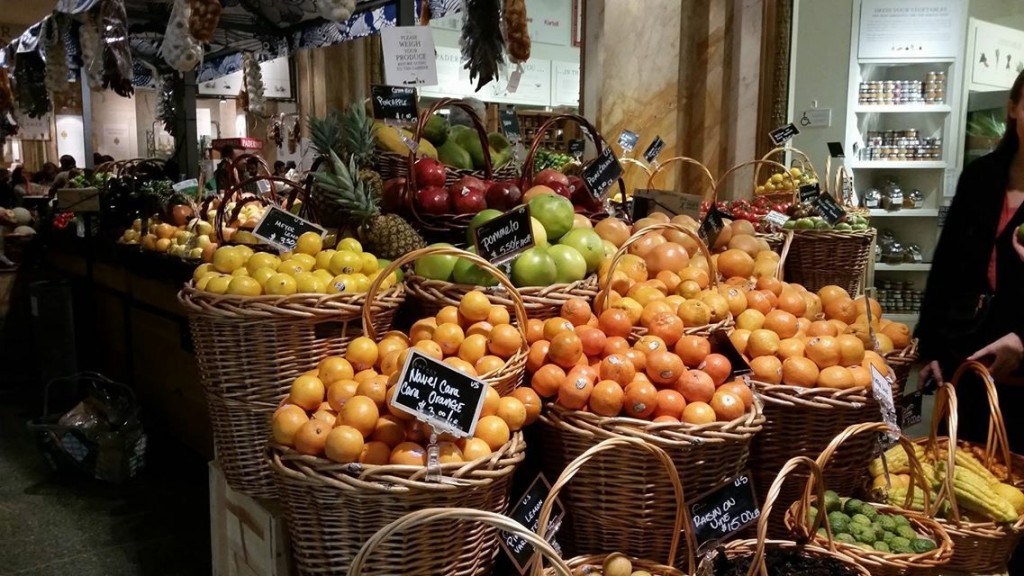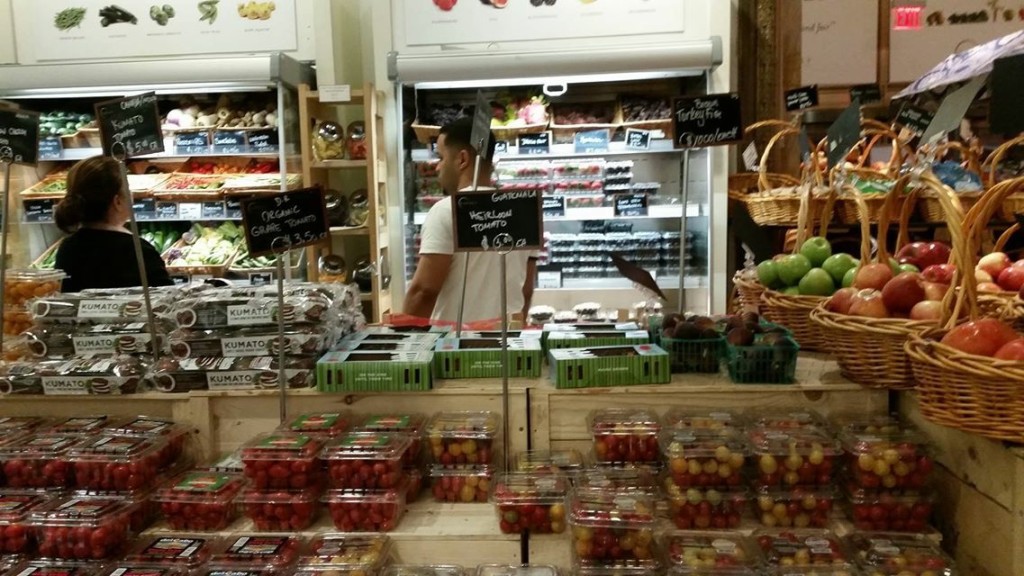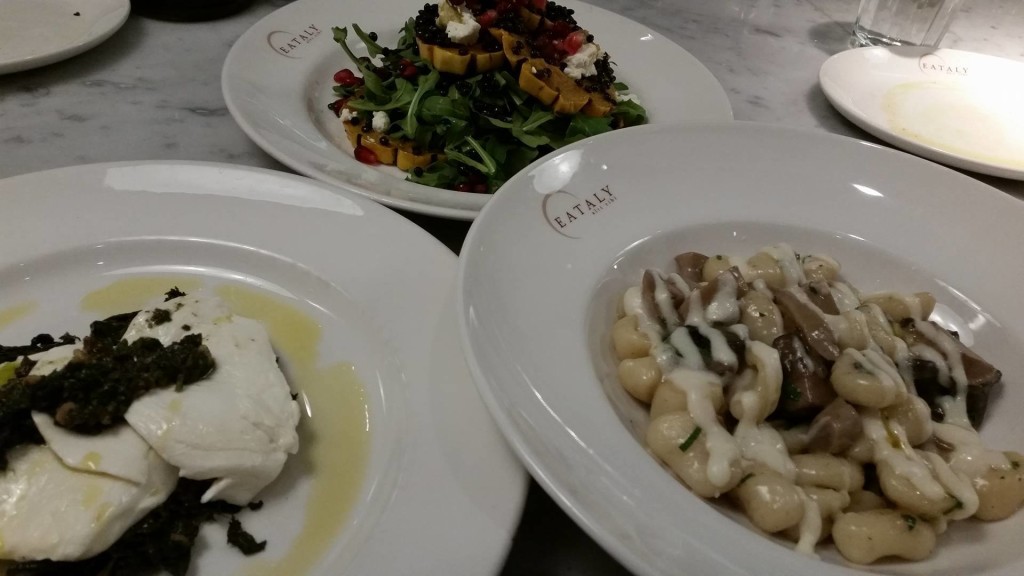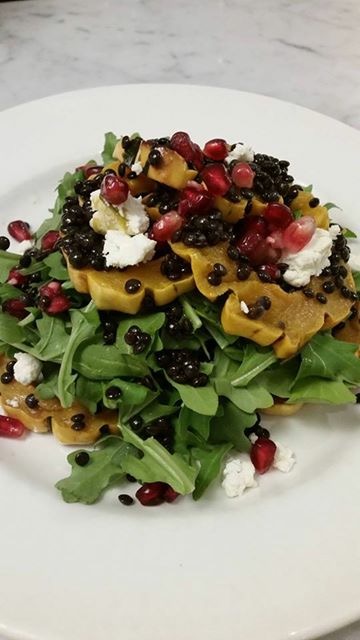 And now we pack our bags for our train to Boston and then Philly where we will be trying to cram as much as we can into a full day of each. New York is a breath-taking city, with truly the best public transport system in the world. The ease of use and stretch is unbeatable. I thoroughly enjoyed how much we walked each day, which is probably what is keeping us trim! We averaged at least 5km from just walking, and enjoyed it as a great way to see the city. Hopefully our future destinations will be this user friendly. Although Ryan and I found some trendy places to eat, there were still countless healthy options scattered throughout every neighborhood. By planning ahead of time you can find great food options for whatever budget, taste preference or dietary requirements no matter where you are in NYC. We will be sad to leave our Polish barista at Current Café, but I am sure we will hear from him soon. I hope you have enjoyed our detailed insight into the city, but it will never beat going, something I highly recommend. Stay posted for the next installment.
Peace, love and food xx