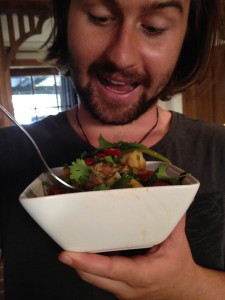 Sweet and sour pork (muc xao whom)
2015-10-29 21:19:42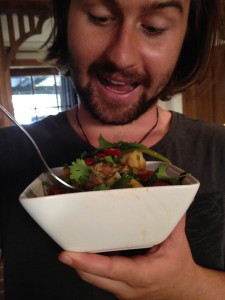 Serves 5
Sweet and sour pork has never really tickled my fancy, the deep fried batter and sweetly sick sauce although delicious on first bite usually ends up making me feel sick. But like most boys I know, Ryan loves a good sweet and sour pork. So the hunt for the perfect was on! I came across Chef Luke Nguyen's recipe whilst watching his show, and the fresh appearance drew me in. I adapted the traditional vietnamese recipe to reduce the sugar, using stevia and sugar free tomato sauce. I have also included a quick cauliflower rice recipe for those who are looking for a lower carb option.
Ingredients
400g pork neck, fat trimmed where possible, finely sliced
2 tbsp peanut oil
2 tbsp fish sauce
1 tbsp stevia
1 tsp black pepper
2 garlic cloves, finely diced
2cm known of ginger crushed
2 shallots, crushed
1 red capsicum, cubed
2 tomatoes, sliced into wedges
1/2 can pineapple pieces, juice drained
1 red chilli, sliced (remove seeds if you don't want it overly spicy)
1 red onion sliced into wedges
handful of spring onions, sliced
1/2 bunch Asian celery washed and sliced
1/2 bunch Chinese broccoli, washed and sliced
200g snow peas julienned length ways
Sauce;
2 tsp stevia
1 tbsp white vinegar
2 tsp sugar free tomato sauce
juice of half a lemon
1 tsp cornflour, dissolved in 2 tsp water.
Coriander and soy sauce to serve
Instructions
In a bowl, combine stevia, fish sauce, untie smooth. Season with pepper and salt if desired. Add pork and marinate for half an hour minimum in the fridge.
Next combine sauce ingredients in a bowl, set aside for later.
Heat a wok over high heat and heat half the oil. Next add garlic, chilli and ginger, then pork. Cook for 3-4 minutes depending on thickness of pork. If needed cook pork in two batches and set aside.
Add remaining oil, heat shallots, then add celery, broccoli, capsicum and snow peas, stir fry for 3-4 minutes.
Next add tomato, pineapple and pork. Add sauce, onions and stir fry for 2-3 minutes.
Serve with your favourite rice or cauliflower fried rice and garnish with coriander and a drizzle of soy sauce.
Notes
Quick cauliflower fried rice; 1 head of cauliflower grated, 1 garlic clove rushed, 1/2 brown onion diced finely, 1 tsp peanut oil, 1 tsp soy sauce. Heat wok to high heat and heat oil. Fry off onion and garlic, then add cauliflower. Fry continuously until cooked but still firm. Add soy sauce, and taste to check flavour, add more soy sauce if needed. For extra veg add 1 cup of mixed frozen veg; carrot, peas and corn. Cook for further 4 minutes.
Adapted from Luke Nguyen; stir fried pork neck with pineapples and vegetables
Eclipse Fuel http://eclipsefuel.com/