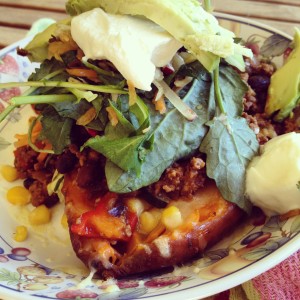 Baked Sweet Potato
2015-10-10 02:11:49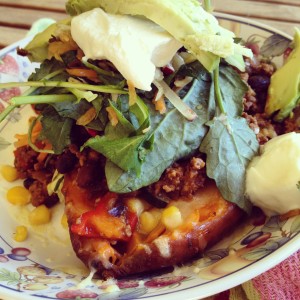 Serves 4
The baked spud is an age old mid week meal, and there is no surprise; it is delicious and ready in under half an hour. The issue with the usual baked potato is it lacks a variety of nutrients, and is usually decorated with a variety of high fat options (i.e. sour cream, coleslaw, excessive cheese etc). My version increases the taste, and adds extra nutrients by swapping the humble tatey for a sweet tatey, and topping with some humble veggies and legumes. This ones perfect for those busy week nights post training or my favourite, during exam prep (eek!).
Ingredients
4 small sweet potatoes
1 x 400g can of kidney beans, drained and rinsed
1 x 400g can refried beans
1x red capsicum, diced
1 x red onion, diced
1 x garlic clove, crushed
1 Tbsp olive oil
1 x zucchini, diced
1 tsp dried oregano
1 tsp cumin
1 tsp paprika
1/4-1/2 tsp cayenne pepper (depending on taste buds)
1 x punnet cherry tomatoes
300g Tuscan kale and spinach leaves, removed from stem
100g of your favourite cheese grated
1 x avocado, sliced
Greek yoghurt, to top
Instructions
1. Heat oven to 180C. Prick sweet potatoes all over with fork, and microwave on high for 5-10 minutes until soft.
2. Meanwhile, heat medium fry pan sauté garlic and onion with spices and olive oil. Once soft, add zucchini, capsicum, and kidney beans. Continue cooking for five minutes until soft, string occasionally. Add tomatoes and cook for 1-2 minutes until blistered and season with salt and pepper to taste.
3. Slice sweet potatoes down the middle and place on oven proof plate. Push SPs open with fork, and drizzle with olive oil or spread with favourite spread. Divide can of refried beans between the spuds, then top with a hefty amount of kidney bean mix. Next top with green leaves, avocado and finally cheese.
4. Heat in oven for 10-15 minutes or until cheese is melted. Top with greek yoghurt and enjoy 🙂
Notes
Add any veggies you want to this dish. Corn, red cabbage and shredded snow peas also work well.
I also drizzle mine occasionally with sugar free/homemade sweet chilli sauce for extra bite.
PS I have nothing against the normal potato, so if you love them, they are also a great substation for sweet potato.
Eclipse Fuel http://eclipsefuel.com/